This colorful mug by
Bebops
features a photo taken on a brilliant late afternoon day in autumn. The sun cast luminous wavering reflections into the marshy water creating an impressionistic palette of gold, yellow, orange, pink and green foliage mixed with the deep blue sky and white aspen trunks. Wild swamp grass circled the pond. The image wraps all the way around the mug.
Autumn Swamp Reflections
by
Bebops
Mug
from Zazzle
A piece of yummy looking chocolate on a pink wrapper that proved to be too tempting for someone! Put some coffee or tea in this mug by
runninragged
and take the next bite.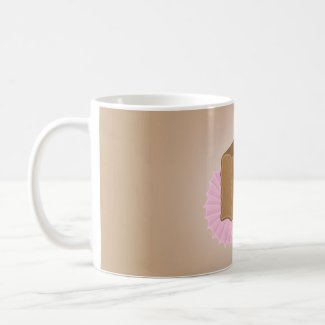 Chocolate Bite
by
runninragged
See other
Chocolate Mugs
Here's a sweet, simple mug from
Metarla's Kitchen
with a pretty pink strawberry heart. Illustration by Metarla. A flat printed image.