This cheerful mug created by
Bebops
displays three colorful abstract rectangles of crisscross lines in red, orange, green, yellow, blue and black on a white background with a black border.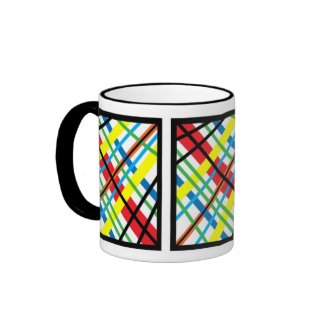 Crisscross Colors
by
Bebops
Design
cheap coffee mugs
with Zazzle
The harvest is in! An abundance of fresh picked corn on the cob is ready for eating, canning or freezing. This mug, created by
Bebops
, is filled with delicious golden yellow corn cobs overflowing their baskets. It's a wonderful reminder of why we celebrate Thanksgiving. The text reads: Happy Thanksgiving! We have so much to be thankful for... You can customize the text to suit your needs.
Abundance of Corn Thanksgiving
by
Bebops
Create custom
coffee travel mugs
online with zazzle
Here is a cute four mug set by
LabKitty
.
LabKitty ponders...
Beach Kitteh (mug 1/4)
by
LabKitty
Design
custom imprinted mugs
on zazzle
...Is light wave or particle...
Beach Kitteh (mug 2/4)
by
LabKitty
See more
Labkitty Mugs
...ocean but fish soup?
Beach Kitteh (mug 3/4)
by
LabKitty
See other
Labkitty Mugs
Burmashave.
Beach Kitteh (mug 4/4)
by
LabKitty
Make a
coffee mug
on Zazzle