I took this photo last year one still early evening and have turned it into this mug for
Bebop's Place
. It paints a picture of a peaceful planet. It's twilight and all is quiet. The luminous sky is a palette of indigo, blue, pink, yellow and red. Pine trees are silhouetted against the sunset colors. A tiny sliver of moon way up in the sky looks down on the scene. The image is repeated on the right and left sides. The center simply reads: Peace on Earth. The text can be customized to suit your needs or deleted entirely.
Sunset Moon
by
Bebops
Learn
how to sell my artwork
on zazzle.
Cerulean Sky Studios
created this great mug and says about it: "Jasper is a feisty little gray and white tabby kitten who's growing up fast. As you can see, I managed to catch him in the middle of a very big yawn. The photo is shown here on the left-hand side of a classic white coffee cup and on the right-hand side are the words "Gimme More Coffee!" You're welcome to customize the text if you'd like as well as order this cup in any style or color. Check out my store for more cute kitten products."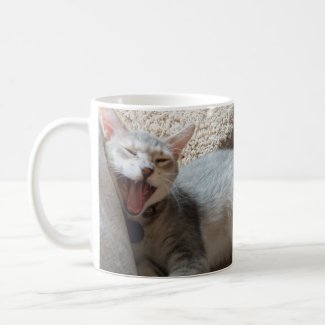 Jasper Yawning Kitten Photo Gimme More Coffee Mug
by
CeruleanSkyStudios
Create a
coffee mug
with zazzle.com
Here is stunning mug by
RickMac
which features a beautiful yellow Calla Lily with a cool blue background. The yellow calla lily is a symbol of Magnificent Beauty.