This lovely mug by
Bebops
is decorated with graceful blue grape hyacinths set upon a soft background of luminous green and gold. The design is repeated left, center and right.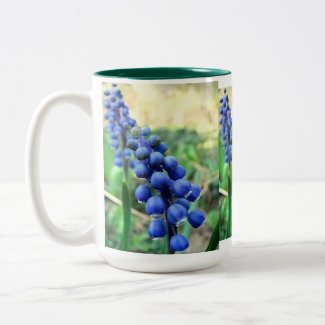 Hyacinths Mug
by
Bebops
Make
custom imprinted mugs
on zazzle
Halloween is just around the corner! Show your ghostly spirit with this Happy Halloween mug by
The Art of Ramona
! Dog being a chaperon to a kitty so he can go out for tricks and treats! Image done with colored pencils, digitally colored and graphite pencils.
Happy Halloween mug
by
ramona777
Get your own
ceramic mug
at Zazzle
This exquisite mug by
slvr0drgn
features a macro photograph of an elegant dandelion flower. This photo was taken in a field with a black background placed behind the flower. The fluffy white seed pods really pop off of the background. You can see so much detail in this beautiful flower. The poet Michelle Balletto-Wooten was inspired by this dandelion photo to write a poem in the form of Haiga. Haiga is the poem on its own and Haiku is when the poem is paired with a picture. The poetry is written in white, elegant script. The poem reads "White wisp of joy dance/ Dandelion announcement/ Spring is on her way."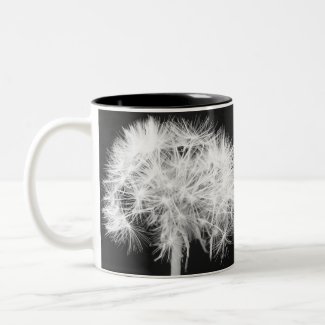 Dandelion Haiku Mug
by
View more
Nature Mugs
Use this silly bug-eyed spider mug available at
Bebop's Place
when you go trick or treating on Halloween or any time of year. They won't scare anyone but you are sure to get lots of laughs and goodies. Black spiders with white eyes bugging out of their heads are scattered on an orange background.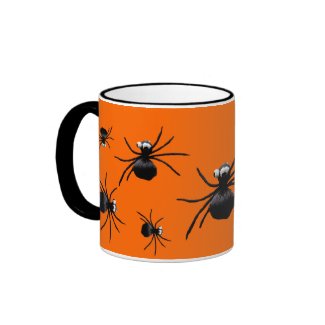 Spiders
by
Bebops
printed coffee mug
on zazzle
Clusters of white swirls border your text creating a bold, retro design on your travel mug by
Strive Designs
. The perfect mug to commemorate a wedding or anniversary, but the text can also be personalized with your anything else! Change the background color to your favorite color or to match your special event.
This mug by
JaciHarmsen
has a lovely mirror reflection of water, woods and sky encircling the whole.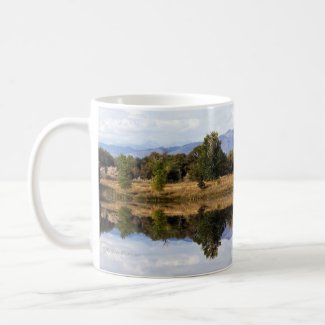 Reflection mug
by
JaciHarmsen
Create a
customizable travel mug
at zazzle