Nine mallard ducks decorate this lovely frosted mug available at
Bebop's Place
. The males have iridescent green heads, mostly white bodies and yellow beaks. The female's feathers are shades of brown and gold with orange beaks. Set on a creamy background with a green border that matches the male plumage, this is a striking design!
Nine Mallard Ducks
by
Bebops
Browse
Mallards Mugs
I really love this mug design by
MissPrinteditions
. A gorgeous bouquet of treble and bass clefs, in rainbow colors, is displayed three times.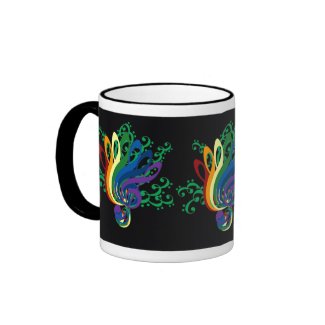 Clef Bouquet
by
missprinteditions
See other
Clef Mugs
Delightful whimsical trees in soft colours decorate this lovely mug by
Designs by Shell
. It would make great holiday gift...
Pretty Whimsical Trees
by
seashell2
See other
Whimsical trees Mugs