This cute mug available at
Bebop's Place
features a sweet little cottontail bunny who seems to be floating on a cloud. The image is repeated left, right and center.
Bunny Mug
by
Bebops
See more
Bunnies Mugs
I love the poetry and design of this mug by
CheyBaby Designs
. The text reads: "Let kindness ripple outward". Crimson & Gray Circles are ready to pull multiple purposes, between routing for your team, being a cool background, or creating a better world. All designs can add, subtract, or change text to your needs.
Crimson & Gray Circles Mug 2
by
CheyArtist
Design
Travel mugs
with zazzle.com
Here is a wonderful mug with a message by
Cancerapparel
. You fought and survived Appendix Cancer so wear your survivorship with pride with the series of Appendix Cancer Survivor shirts, apparel, merchandise and gifts brought to you by cancer survivors, advocates and sponsors at CancerApparelGifts.Com. This design spotlighting a cool grunge amber ribbon that's all attitude while letting everyone know you are a survivor. Makes a great gift idea for Appendix Cancer Survivors and perfect for awareness events and all occasions to help promote the significance of Appendix Cancer activism, advocacy and awareness.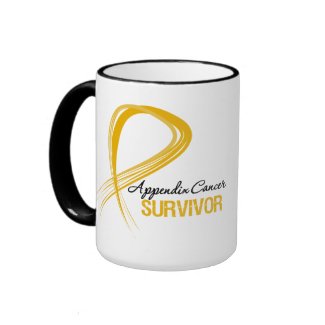 Grunge Ribbon Appendix Cancer Survivor
by
cancerapparel
Design
mugs
with Zazzle