I was walking by the pond yesterday and was blown away by the gorgeous reflections in the water from the autumn leaves. Although fall is just beginning here, the show is definitely underway! Fortunately, I had my camera and got this image which I put on a mug for
Bebop's Place
.
This mug features a brilliantly colored pond full of rippling autumn reflections in red, yellow, gold, green and blue. The effect is of an impressionist painting.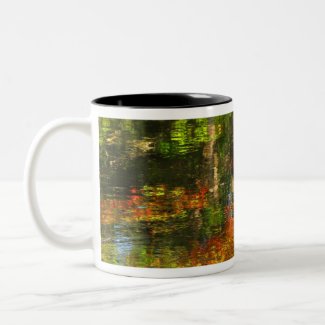 Autumn Reflections
by
Bebops
See other
Reflection Mugs
Red heart outline and deep red lips set the stage for this template coffee mug by
Block Quote Products
. Let the person in your life know how you feel – "Love You". Or add your own message. Great gift for that special person in your life. Original digital vector art.
Love You Heart Kiss Customizable Mug
by
BlockQuoteProducts
Create custom
commuter mugs
online at zazzle.com
This poignant mug by
cky128
is really special. The Twin Towers are surrounded by the the message: Never Forget Nine Eleven.
Never Forget 9-11
by
cky128
Browse other
Never Mugs